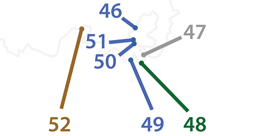 Prints of these maps can be purchased on the map page.

THE MAP OF CONNECTIONS 3.1 charts unofficial border crossings: the stepping stones, footbridges and muddy lanes I found when walking the border. More on the map page.






FICTIONAL ULSTER

locates Ulster's fictional places – villages, townlands, mountains and other places invented by writers down through the years. More here.




A VIEW OF THE BORDER is the map that illustrates my book about Ireland's frontier. Prints of this map can also be purchased on the map page.
CURATING: MAPPING ALTERNATIVE ULSTER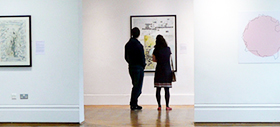 Maps of Northern Ireland are often used to illustrate traditional political divisions, but they conceal a much more nuanced place. This landscape, rural and urban, is much more than a site of conflict. I brought together diverse mapmakers: local historians, activists, artists, geographers and urban planners for a show of maps called MAPPING ALTERNATIVE ULSTER. Its next run will be in Donegal in 2022. The exhibition re-thinks our representation on maps.

From the comments book:
Both fascinating and inspiring ... very impressive, pluralist approach ... It seems the people of Northern Ireland have a special kind of love for their land, and desire to map it ... A wonderful and imaginative exhibiton ...

There's an exhibition website.


Email:
garrettcarr [at] gmail [dot] com

Postal address:
Garrett Carr
The Seamus Heaney Centre
AEL
Queen's University Belfast
Northern Ireland
BT7 1NN

I am sometimes found on Twitter.
THE RULE OF THE LAND is published by Faber & Faber.
THE BADNESS OF BALLYDOG, LOST DOGS and DEEP DEEP DOWN are published by Simon & Schuster.
Agent: Georgina Capel Associates.